The Farm
A mixed livestock farm rearing beef cattle,sheep, saddleback pigs and Christmas turkeys
Set in the beautiful Usk Valley close to the Brecon Beacons National Park in Monmouthshire, Pant-y-Beiliau is a family run, mixed farm. We farm beef cattle, sheep, rare breed pigs and Christmas turkeys.
Although not classified as organic our family farm offers you extensively reared meat that has been grazed on the rich grassland of the Usk Valley, with minimal use of artificial fertilisers and sprays.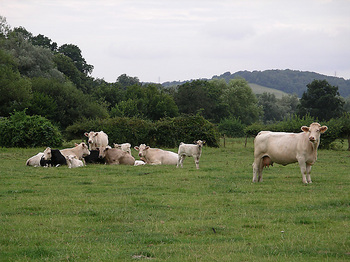 The Trumper family has farmed at Pant-y-Beiliau since 1929. There has always been livestock on the farm. The farm was market gardening from the war years until the mid 1950's.
Wessex Saddleback pigs arrived ~1947 and remained until the late 1960's. With the amalgamation of the Wessex and Essex Saddleback breeds to become the British Saddleback in 1967, the British Saddlebacks returned to the farm in 2002.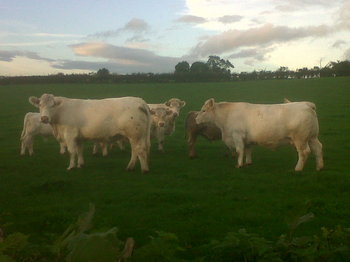 Our beef cattle are mostly British Charolais with some registered pedigree and many unregistered but breeding pure.
The cows calve in the Spring and Summer.
Superior calves are kept as replacement breeding stock.
We fatten the remaining young cattle right through to slaugter. Our cattle are slaughtered at St.Merryn Meat at Merthyr Tydfil going into the Tesco 'Finest' range.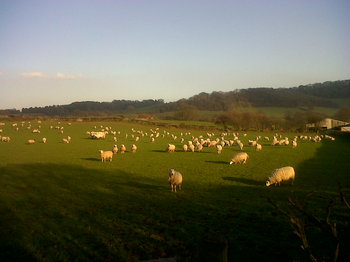 We have three sheep flocks - a pedigree flock of ~200 Ile de France , a commercial flock of Welsh Mules with the Ile de France as the terminal sire and a Pedigree flock of Southdowns.
We have had showing success with our Southdowns at Usk Show winning Champion Female and Interbreed Champion for a pair of ewe lambs in 2019.
Our flock of Ile de France is the oldest in the UK being established in the early 1970's.We breed all our own rams to use on the commercial flock.
The Ile de France is one of the main commercial breeds in France.
The Ile de France breed naturally out of season so our lambing starts late January and follows through to March/April when the main flock lamb.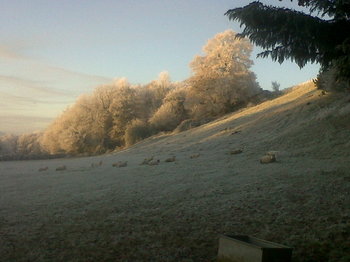 Christmas turkeys add to the busy schedule on our farm, arriving in late summer and being reared until the Christmas season.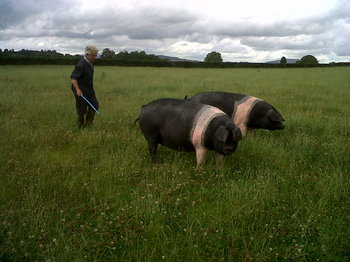 The farm was the setting for the book 'River Diary' by Dorothea Eastwood published in 1950.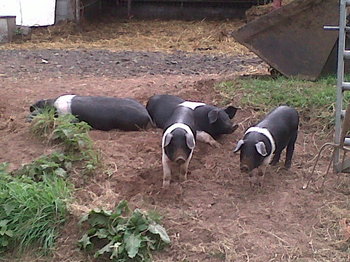 We are fortunate to have the River Usk forming one of our boundaries and our farm provides habitat for otters, kingfishers, foxes, buzzards, red kites and badgers etc


Some of the nearest neighbouring farms to us have accomodation available.
Pant-y-goitre Farm-self catering and riverside fishing lodge website link
The Farm Statistics: 0 click throughs, 7966 views since start of 2022