Refrigerated Trailer For Hire
Fridge Trailer Rental Specification
We have three refrigerated trailers for hire, with rental availabe for a full week or just the weekend. Ideal for cold storage of food and drink for events such as weddings, parties, farmers markets, use by caterers and adding cold room space to restaurants, hotels, butchers etc including emergency chiller storage in the event of a breakdown. Shelving is included as required.
SEE BELOW FOR HIRE PRICES, DELIVERY COSTS AND INFORMATION..
Our mobile cold storage solution has many uses including cooling large quantities of wine, beer and champagne without the need of ice. Of good solid construction with maximum hygienic space our 3m long x 1.7m wide x 2m high Humbaur "Cool Trailer" offers easy chilling to high specification.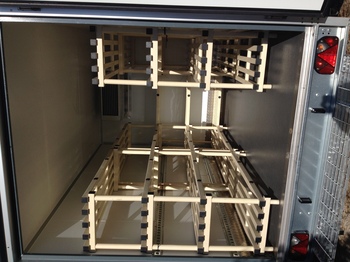 3.00m long x 1.70m wide x 2.0m high.
(External width 2.30m including wheels)
(External length 4.7m to point of hitch)
Refrigeration temperature +1'C to +8'C.
Unit simply plugs into single phase 240v,13amp domestic socket, or generator and chills within the hour. Heavy duty 16AMP extension cables 40m provided. Any additional cable provided by hirer MUST be 16AMP.
Full width double,lockable rear doors with internal release,giving secure and safe storage.
Shelving provided at no extra cost-part or full room.
Internal light
Slip resistant,insulated, double wooden floor, with aluminium tread plate skirting board.
Aluminium rain deflector over rear door.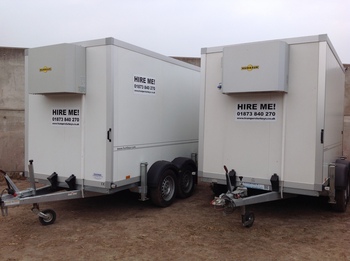 Four telescopic prop stands,for use where static load exceeds 1500kg eg. large quantities of wine. These are located on the crossbeams for maximum load weight of 6000kg.
Box construction of insulating powder-coated 45mm sandwich material for food safe storage.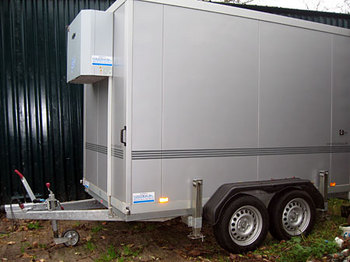 Our trailer is easy to tow by a large family car- Hot-dipped, galvanised, long-beam Alko chassis with rubber torsion suspension gives optimum towing stability.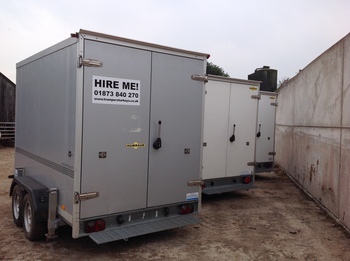 Entry step and hitchlock included.
Flexible term hire from one day to several months,but limited availability over the Christmas period-please ring for details.
Trailer delivery,commissioning and collection service
Full breakdown service.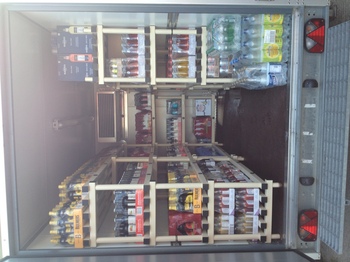 FRIDGE TRAILER RENTAL PRICES (plus VAT)
See below for delivery costs and information.

3.00 x 1.70 x 2.00m chiller trailer.
Per weekend (Friday pm to Monday am): £235.00 (£282.00 inc.20% VAT)
Per Thursday pm to Monday am: £275.00 (£330.00 inc. 20% VAT)
Per full week(to include ONE weekend only):£350.00 (£420.00 inc. 20% VAT)
Longer periods by negotiation
A £100 DEPOSIT (non-refundable) AT THE TIME OF BOOKING, by BACS or cheque (made payable to M.Trumper) IS REQUIRED TO GUARANTEE YOUR BOOKING..
PAYMENT OF BALANCE IS DUE AT DELIVERY.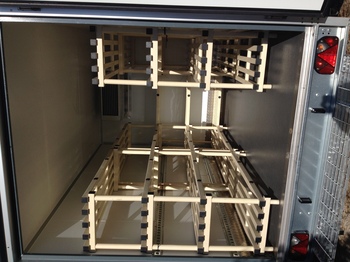 Delivery,commissioning and collection: exact price on application,but based on £TBC per mile (+VAT) (two return journeys,so multiply distance mileage by 4 x £TBC (£TBC inc. 20% VAT).
PLEASE PROVIDE VENUE POSTCODE TO CALCULATE DELIVERY CHARGE
It is possible for you to collect and return the trailer yourself, subject to relevant insurance etc,
Deliveries to London and over 75 miles are always subject to quotation. Please contact us.




Prices are subject to change without prior notice.
A Superior Fridge Trailer From Humbaur The Top German Trailer Manufacturer.
Refrigerated Trailer For Hire Statistics: 0 click throughs, 8419 views since start of 2022