Free Range Pork
Finest Free Range Saddleback Pigs
Our pork is produced from our own herd of pedigree British Saddleback pigs.
We can supply Half Porkers jointed to your specification ready for the freezer. We also usually have frozen individual joints and sausages available.
Sausages can be packed to your request eg. 6packs of 6, 8 packs of 4, etc to fit your requirements.
A Half Porker is usually cut into the following joints:
3 Leg joints, 2 Shoulder joints, Belly, approx 15 chops, Liver. The 3rd shoulder joint, +/- all or half the belly is put into sausages.
We supply pigs to Trealy Farm Charcuterie at Mitchel Troy, Monmouth where the superior flavour of the Saddleback pig contributes to their award winning Salami, air dried ham,etc.
We also supply The Butchery Ltd, London
We have approximately 24 pedigree sows and 2 pedigree boars. The sows and boars are free range living outside in our old orchard and river field. They have arks for shelter and enjoy rooting in the soil and grazing. In the autumn they home in on the acorns under the oak trees. In the warmer weather they farrow outside but in the cold weather we bring them in to farrow. 2015 was a very special year for us when we were fortunate to win the Interbreed Supreme Champion Pig at The Royal Welsh Show with our Sow Beiliau Dinah 19th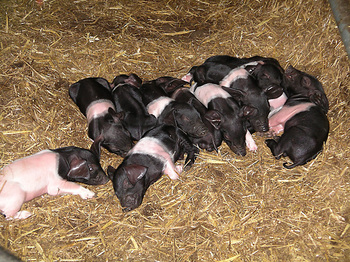 The piglets are weaned at 8-10 weeks of age and they are bedded on straw.They are kept in their own litter group to minimise stress.Before weaning some of the piglets find their way out of the nursing pen and can explore the farmyard. They are very intelligent and can always find their way back to mum!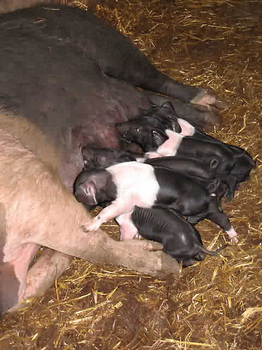 Our pigs are not intensively reared but allowed to reach maturity in their own time, producing pork with a traditional taste and flavour.
Once customers have tried pork from a Traditional Breed they will never want to go back to the commercial product. "succulent", "tastes like pork used to", "makes fantastic crackling" are just a few of the comments from customers.
In 2017 we were delighted to be awarded 2stars ** in the Great Taste Awards when we entered our Loin of pork.
We have also won the Taste of Pork Award in 2015 and 2016. This is a competition run by the Wales and Border Counties Pig Breeders Association where pork from various different breeds is blind tasted against each other .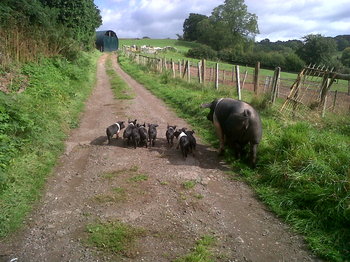 The Wessex and Essex Saddleback are two breeds which are believed to be of similar origin, it being claimed that both are nearly pure representatives of the original Old English Pig. Respective Breed Societies were inaugurated in 1918 and separate Herd Books kept until 1967 when the two amalgamated and became the British Saddleback. There are slight differences between the two breeds but many Saddlebacks now have mixtures of both breeds.With our Beiliau herd we try to keep the traits of the Wessex Saddleback.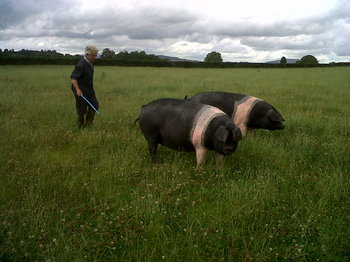 The prefix of the Beiliau herd has been in use since 1950 when the first Wessex Saddlebacks born on the farm were registered.There were pigs on the farm until the late 1960's and then a gap until 2002 when we bought our first sow from the prize winning Pantysgawen Herd. Our herd has grown and we show each year at the Royal Welsh Show winning several prizes including Male Champion and the Interbreed Pairs Championship in 2008.
Our success continues with 2010 Champion Male and Champion Female,Breed Champion and Interbreed Reserve Supreme Champion......
2011 Champion Male, Reserve Champion Female and Reserve Breed Champion.........
2012 Champion Female, Interbreed Reserve Supreme Champion........
2015 Champion Female, Breed Champion and INTERBREED SUPREME CHAMPION......
2016 Champion Female, Breed Champion.....
2017 Champion Male, Reserve Breed Champion....
2018 Champion Female, Breed Champion, Reserve Champion Male
Pig classes have now been introduced at our local Usk Show,and we have had success there too with Supreme Champion in both 2010, 2011, 2015 and 2018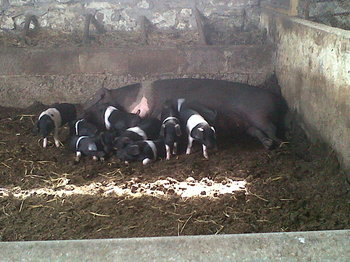 Our pork tastes wonderful with fantastic crackling.Try some to make a great Roast Dinner.It is born, reared and butchered within 5 miles making it local produce with less environmental impact and a low carbon footprint.

The black pigmentation of the British Saddleback does not appear on the meat itself although you may notice some black bristles on the skin which should be treated as a sign of high quality!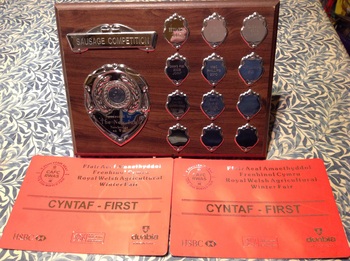 The gammon hams and bacon that we have available at Christmas are from our own pigs and dry cured by Trealy Farm Charcuterie.
In 2014 the dry cured bacon won 1st Prize at The Royal Welsh Winter Fair whilst our sausages also won 1st prize in the Pedigree Pork section and then Overall Champion Sausage.
In 2016 WINNER of Pedigree Pork Sausage at The Royal Welsh Winter Fair.
Supreme Champion Pig 2015 Royal Welsh Show
Free Range Pork Statistics: 0 click throughs, 8336 views since start of 2022